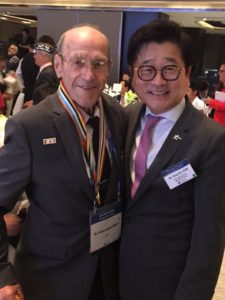 Korean War veterans from Washington County were presented with Ambassador for Peace medals during a special banquet in Seoul, South Korea. The ceremony was held at the Grand Ambassador Hotel.
Medals were presented to Nick Habersetzer, Norbert Carter, Francis 'Jerry' Wanty, and Merlin Stockhausen.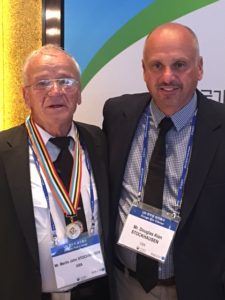 There were 123 Korean War veterans from around the world on hand to receive their awards. Each received a warm round of applause from members of the Korean ROTC as they entered the banquet hall.
Distinguished guests included the Hon. Park Sung Choon Minister of the Patriots and Veterans Affairs and Lt. General Thomas W. Bergeson, Deputy Commander UNC/USFK.
On an interesting side note, Lt. Bergeson took a moment during his speech to say, "Anyone here from Wisconsin? Go Packers!"  Turns out Lt. Bergeson hailed from Wisconsin Rapids.  "I'm a 1981 graduate of Wisconsin Rapid High School," he said as he posed with veterans from Washington County. "My son is currently enrolled at UW Madison and my parents still live in Wisconsin Rapids."
Throughout the evening veterans were praised for their "gallantry and sacrifice."