March 2019 Students of the Month for Holy Angels | By Mike Sternig
April 18, 2019 – West Bend, WI –  Holy Angels School in West Bend has announced its March 2019 Students of the Month including Maddee Bell, Emelia Guse and Veronica Beisbier.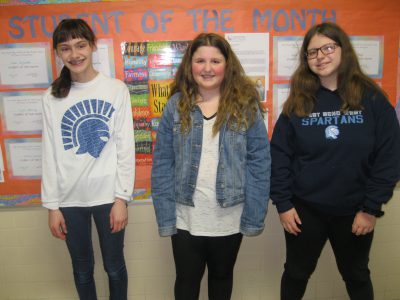 6th Grade:  Maddee Bell
Maddee entered junior high with the right attitude. She wanted to get straight A's every quarter and join just about every club imaginable. Because she works very hard, and holds herself to a high standard, Maddee has pretty much accomplished her goals. Her teachers admire her effort to complete all assignments perfectly as well as her curiosity and participation during class.  Outside of class, Maddee is an avid reader and excellent basketball player. She participates in forensics, Battle of the Books, robotics, HOPE club, chess and knitting club. With such a wide range of interests, it's not surprising she imagines herself doing something related to science, robotics or writing in the future.
7th Grade:  Emelia Guse
Emelia is an outgoing, creative, and bubbly person who is easy to talk to. She is not afraid to try something new. This year, she auditioned for a solo in the musical and played the ukulele for the grandparents at Grandparents Day. Her teachers recognize that she has been successfully working to improve her work quality, class focus and participation. Outside of school Emelia has spent time involved in competitive ice skating and swimming. Emelia helps out at school by serving at Mass and working as a safety patrol.
8th Grade: Veronica Beisbier
Veronica is a quiet student who describes herself as both shy and a risk-taker. These two, seemingly contradictory ideas, match with the teachers' experience of her. She can be counted on to stay on task in class, work well with others, and turn in high quality work. Her artistic skills are impressive. She is willing to take on responsibility, offering to take a leadership role in the organization of this year's musical.  When she takes on a task, she works hard until she achieves success. This school year, she committed to improving her reading and has become an avid reader.  Outside of the classroom, Veronica enjoys playing video games and volleyball.