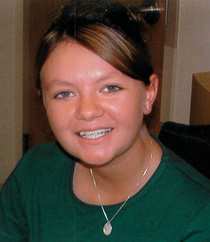 April 28, 2017 – Slinger, WI – Jennifer Ann Freitag, age 33 years, passed away on Friday, April 21, 2017.  She was born on December 17, 1983 in Hartford to Michael Freitag and Mary Ann Puls.  Jennifer graduated from Slinger High School Class of 2002.  She enjoyed shopping, being with friends, going to Brewer games, life itself, but especially spending time with family.
Jennifer is survived by her mother Mary Ann (Richard Bamke) Puls; her father Michael (Betty McGlothin) Freitag; grandparents, Robert and Patricia Freitag; her sister Janelle (Jason) Lisko; her brother Michael (Samantha) Freitag; half-brother Brandon Bamke; nephews and nieces, Kody, Kelsey and Kenna Lisko, Cheyenne and Austin Freitag; aunts, uncles, other relatives and friends.
She was preceded in death by her grandparents Earl and Marion Puls.
A Memorial Service for Jennifer will be held at 6:00 PM on Friday, April 28, 2017 at the Phillip Funeral Home Chapel (1420 W Paradise Drive, West Bend) with Rev. Paul Mittermaier officiating.  The Visitation will be held on Friday, April 28 from 3 p.m. until the time of service.