Obit: Peter Leo Gonnering of West Bend. Peter was a public servant who served as a Town of Barton Supervisor, Town Chairman and Washington County Supervisor for almost 30 years.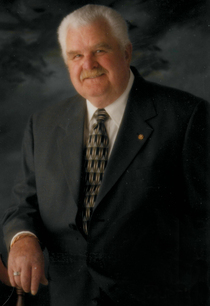 March 7, 2017 – West Bend, WI – Peter Leo Gonnering, a lifelong resident of West Bend, Wisconsin passed away from recently diagnosed liver cancer at his home surrounded by family on March 7, 2017.  Peter was the youngest of three children born to Leo Peter Gonnering and Alma Meyer on February 11, 1930.  His two sisters, Ruth (married to Eddie Fairly and George Guse) and Marion (married to Duane Goelz and Donald Hercules) proceeded him in death.
Peter served his country from 1950 – 1953 in the United States Army as a Military Policeman assigned to the 728th MP Battalion while serving in the Korean Conflict.  His military awards included the Army Commendation Medal, Korean Service Medal, United Nations Service Medal and the Good Conduct Medal.
His other military assignments included Fort Benning, Georgia and Fort Sheridan, Illinois.  He was a proud member of the American Legion and the Veterans of Foreign Wars.
After his military service, Peter was working for Tennies Buick in West Bend when his lifelong friend (Chuck Johnson) asked him to join his family's bus business.  He worked for Johnson Bus during the school season and West Bend Sand and Stone during the summer.  Later, as the bus business grew he devoted his time exclusively to Johnson School Bus service later retiring as Vice-President of Maintenance Operations with almost 45 years of service.
On June 1, 1957 Peter married Dorothy C. "Tina" Koenings and they were blessed with five children:  Leo P. Gonnering (Betty), Catherine M. Ladd (Mark), Gary D. Gonnering, Rose M. Gonnering and Mary L. Gonnering.
Peter was a public servant who enjoyed serving as a Town of Barton Supervisor, then Town Chairman and also served as a Washington County Supervisor for almost 30 years.
Throughout his life, Peter was an avid reader often exchanging good books with his children.  He was a "hobby farmer" and a history buff and had a memory for dates of all historical events in the USA and around the world.  Peter loved to hunt and fish and experiment with various powder and ball weights with his hand-loaded rifle ammunition.  His two sons accompanied him on successful caribou, mule deer and elk hunts in Alaska, Nevada and Colorado.
Peter was fond of travel, having made trips across the country to Arizona, Georgia, California, Virginia and a big trip to Alaska, driving the Alaska-Canadian (ALCAN) Highway with his son and granddaughter.  Another very memorable trip was to Germany where he retraced George Patton's historic march across Europe during World War II to his final resting place in Ham, Luxembourg.  While in Luxembourg, he also visited with Gonnering family relatives still residing in the "old" country.
Peter is survived by his wife of almost 60 years, his five children, nine grandchildren, two step-grandchildren and eight great-grandchildren.  He is further survived by a sister-in-law and brother-in-law (Raymond and Diane Roskopf) as well as other nieces, nephews and friends.
For the last few years Peter enjoyed spending time with high school friends, service buddies and the Register of Deeds breakfast club.
Special thanks go out to Horizon Home Care & Hospice for their warm and professional care over the past few weeks.
The family has requested that any memorials be made to the American Legion Legacy Scholarship Fund which pays college costs for children of military members who have died on active military service since September 11, 2001.
A Mass of Christian Burial will be at 12:00PM on Monday, March 13, 2017 at St. Mary's Immaculate Conception Catholic Church (406 Jefferson St. West Bend, WI 53090).  Visitation will be at church from 9:30AM until the time of Mass (12PM).  Interment will follow at New St. Mary's Cemetery (Forest View Rd, Town of Barton).