Obit: Virginia A. Wagner, 81, West Bend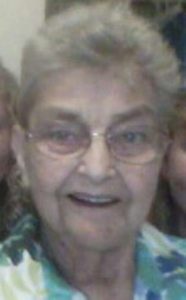 Virginia A. Wagner (Nee Nickel) passed away surrounded by her family on June 28, 2016.  She was born on May 1, 1935 in Beaver Dam, WI to Ervin and Frieda (Nee Homan) Nickel.  After graduating from Beaver Dam High School she moved to West Bend and worked for the telephone company as a telephone operator.
On October 5, 1957 she was united in marriage to Robert Wagner her loving husband of 58 years while raising their four children.  She was an Avon Lady and a Boy Scout leader. Virginia was also employed at the West Bend Company until her retirement.
She loved sewing, reading and doing crafts.  She also enjoyed baking, playing cards and camping with her family.
Virginia is survived by her husband Robert, her four children, Brenda (Dennis) Heinecke, Mark (Karen) Wagner, Lori (Randy) Boudry and David (Diane) Wagner; grandchildren Jamie Chesak (special friend, Troy Olmsted), Joel (Marie) Heinecke, Eric Wagner, Keith (Samantha) Wagner, Amanda Boudry (fiancé , Angie Erickson), Nicole (Dan) Robinson, Tyler Boudry, Angie (Tony) Wilson and Tracy (Greg) Hansen; step-grandchildren, Keri (Matt) Lehn, Jake Turner and Ashley (Michael) McManus; great-grandchildren, Brendan & Collin Chesak, Mason Wagner Kaiden, Aubrie and Chase Wagner, Holden & Bailey Hansen; step-great-grandchildren, MeKenzie, Kennedy, Riley and Lyvia Lehn.
She is also survived by her brothers, Dave Nickel, Tom (Kathy) Nickel, her sisters Fran Mack & Kathy Westphal and her brother-in-law Ronald (Sue) Wagner and family member Laurel Tadych.
She is preceded in death by her grandson Michael Wagner, her sister Audrey Basske; brothers-in-law, Jerry Wagner, James Mack, Mike Strupp, Bill Kirchner; sisters-in-law, Lucille Strupp, Patsy Kirchner and Sue Nickel.
A funeral service will be held at 1:00 PM on Tuesday, July 5, 2016 at the Phillip Funeral Home Chapel (1420 W. Paradise Dr. West Bend, WI) with Deacon Mark Jansen presiding.  Visitation will be at the funeral home from 11:00 am until the time of service.  Interment will be at Washington County Memorial Park.