February 23, 2020 – Mayville, WI – Aaron John Nickel, AJ, 39, Mayville, passed away unexpectedly at home with his dad, Darvin, by his side. AJ was born June 24, 1980 and was the sunshine that put a smile on all who met him. AJ loved to sing Elvis songs with his mom, Jane Kocher Nickel, for years before she passed.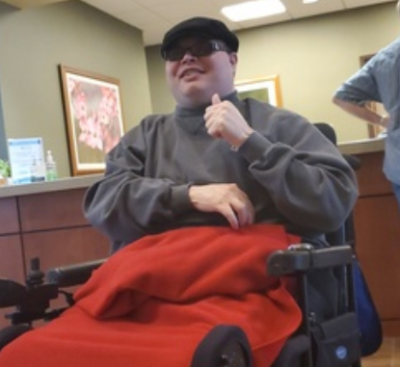 He enjoyed doing projects, taking walks, and going on outings with mom, dad and friends. He became a 'pro' at Tri-Peaks on his laptop. AJ would get into a great, deep belly laugh when his friend, Steve, would do his Macho Man Randy Savage impersonation which would have everyone else laughing along.
As a child, AJ and his brother, Brian, loved fishing, especially up north with family and being adventurous, daring boys. He was hard-working, even as a young boy. Always wanting to help, AJ always wanted to please everyone and was not one to complain.
Aaron loved his caregivers, Dominic, Kym and Kat, and would get them to give him his favorite treat, peanut butter rice crispy treats, as soon as he was done licking the spoon. He was good at beating the best of them at Uno.
AJ will be deeply missed by everyone whom he met. He leaves his memories behind to his dad, Darvin Nickel, brother Brian, Uncles Steve (and Cindy) Kocher, Eric "Buff" Kocher, nieces and nephews Dominic, Brianna, Conner, Mekenzie, Makalyn, Nathan, special friend Kym Harmelink, friends and family.
Aaron was preceded in death by his mother, Jane Kocher Nickel, his maternal grandparents and a niece.
The laughter, smiles, love, and friendship AJ brought to everyone will forever live on in all that had the honor of loving this beautiful angel. He is now in the loving arms of his mom.