Obituary | Gregor 'Crickets' L. Rohlinger, 86, of Kewaskum
Feb. 20, 2019 – Kewaskum, WI – Gregor "Crickets" L. Rohlinger, 86, of Kewaskum passed away peacefully on Monday, February 18, 2019.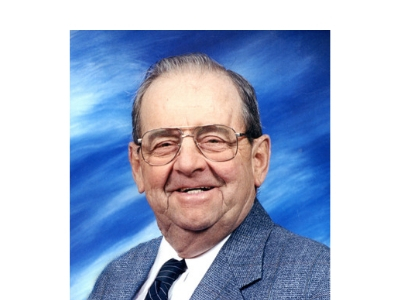 He was born on November 27, 1932 to the late Leo and Johanna (nee Hall) Rohlinger in Ashford, WI. He grew up in Kewaskum and worked with his dad delivering fuel for Sinclair Oil. Gregor honorably served in the United States Army from 1953 until 1955. On October 13, 1956 he was united in marriage to Beverly Sarauer at St. Kilian Catholic Church.  He worked at the Gehl Co. and then for the Village of Kewaskum for many years until he retired. Gregor was very active in the community and a member of many organizations including Holy Trinity Catholic Church, where he was an usher for over 50 years. He was a Fourth-Degree member of the Knights of Columbus and belonged to the Robert G. Romaine American Legion Post #384. He also served on the Kewaskum Fire Department for over 25 years and was a past member of the Kewaskum Sno-Chiefs and Hon-E-Kor golf course. He enjoyed many activities including golfing, bowling, horseshoes, playing Sheepshead, and visiting the casino, always coming home with an "empty" wallet.  Most of all Gregor loved spending time with his family.  He will be missed by all who knew him.
Those Gregor leaves behind to cherish his memory include his loving wife of 62 years, Beverly Rohlinger; five children, Carol (Rick) Averill, Tom (Marlene) Rohlinger, Kathy Rohlinger, Tim (Tammy) Rohlinger, and Kelly (Kevin) Marquardt; ten grandchildren, Cassie (Vince) Wilson, Matt Rohlinger, Adam Rohlinger, Ryan (Christie) Rohlinger, Bria Rohlinger, Hailey Rohlinger, Isaac Rohlinger, Mikaela Marquardt, Madelyn Marquardt, and Jessica Daniel; seven great-grandchildren, Harper Rohlinger, Rocco Rohlinger, Louie Rohlinger, Lola Rohlinger, Michael Daniel, Landon Daniel, and Taylor Daniel. Two sisters, Mary (Dave) Ours and Shirley Sarauer; a brother Norbert (special friend Jan) Rohlinger; a sister-in-law, Beverly Sarauer; a brother-in-law, Don (Marlene) Sarauer; many nieces, nephews, other relatives and friends.
In addition to his parents, he is preceded in death by a sister, Rita (Bob) Renner; two brothers, Al (Janet) Rohlinger and an infant brother, Joseph Rohlinger; three sisters-in-law, Darlene Rohlinger, Sylvia (George) Roecker, and Dolores (Maurice) Finch; four brothers-in-law, Ronnie Sarauer, Bernard (Jeanette) Sarauer, Vernon (Esther) Sarauer, and Kenneth Sarauer.
A Mass of Christian Burial in remembrance of Gregor will be held on Monday, February 25, 2019 at 6:00 p.m. at Holy Trinity Catholic Church, 331 Main St., Kewaskum. Father Jacob Strand will be officiating. Entombment will be on Tuesday, February 26, 2019 at 11:00 a.m. at Washington County Memorial Park.
The family will greet relatives and friends at the church on Monday starting at 2:00 p.m. with a Knights of Columbus service at 5:45 p.m.
In lieu of flowers, memorials to Holy Trinity Catholic Church or School are appreciated.
The family would like to extend a special thank you to the nurses and staff at Kettle Moraine Gardens, Samaritan Health Center, and especially Holly for all their help and care.