Feb. 15, 2019 – Washington Co., WI – Randy "Iron Rope" Pohlers, passed away on February 14, 2019.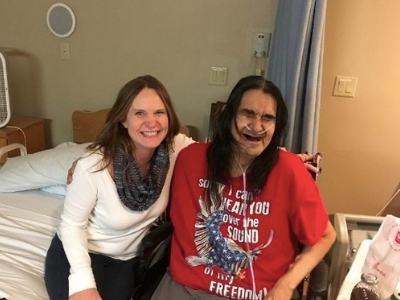 Randy, a proud member of the Lakota nation, was adopted by Dorothy Brown and Reverend Donald Pohlers in the late 60's. He was their oldest son, and was the best protective big brother to his sister Sarah. He had a regular habit of lovingly calling his mother "Old Fossil."
Later in life, his health issues limited his physical abilities, but did not diminish his spirit or the ability to positively affect those around him. Randy had stories from childhood and beyond that would keep you on the edge of your seat. If you have ever got a voice message from Randy, you have heard some of these;
"Old Fossil"
"Hey Sis!"
"Click it, Don't get a ticket!"
"Say Hi to the Keithster!"
"That was a bodacious grilled cheese sandwich!"
Randy's special catchphrases and sense of humor will be greatly missed. He lived a full, crazy life but never forgot the people he loved.
Randy is survived by his parents Donald and Dorothy, siblings David Pohlers, Marten Iron Rope, Sarah Scott, nee Pohlers, (Keith, who Randy affectionately referred to as "The Keithster"), step-children, and many nieces and nephews.
The family would like to thank The Pavillion at Glacier Park, for their respectful and loving care of Randy, as well as the Lakota nation for their support and guidance.
Services are pending.