Prepping to celebrate Catholic Schools Week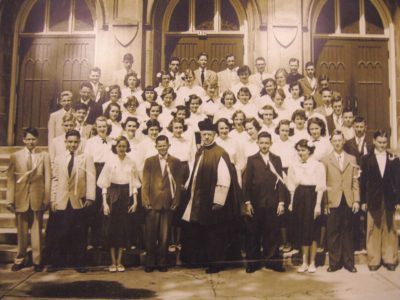 Jan. 24, 2017 – Washington Co., WI – Catholic Schools Week will begin Monday across Washington County as schools participate in Mass, a Catholic Quiz Bowl, and naming the winner of the Mother Cabrini award.
In an effort to celebrate the week we reached out graduates of parochial schools to get their reflections on how a Catholic School education impacted their life.
Ann Enright of Boltonville: I attended Holy Trinity Catholic School, Kewaskum, from 1951-1959.  Our teachers were nuns from the order of The Sisters of St. Agnes. Their mother house was and still is in Fond du lac, WI.
There were four classrooms with two grades per room.  The nuns were pious about their faith, well educated and loved their jobs. They expected respect and students to work up to their abilities, no less.
Demanding quality personal effort was a motivator for me which I have continued to apply in my careers as wife, mother, real estate broker and citizen.
English, History and Geography were my favorite subjects.  High School classes were a breeze because I had such a good foundation.  I think I can still diagram a sentence and say most of the Gettysburg Address thanks to those nuns.
Religion was taught with enthusiasm and that enthusiasm has remained with me to the present.  I am still learning and taking Bible classes.
Check out the schedules below for daily activities at St. Frances Cabrini and Holy Angels School.
If your school would like to submit its schedule of events email it to [email protected]
Schedule of events at Holy Angels School in West Bend
Beginning January 28, Holy Angels School in West Bend will join schools throughout the country in celebrating Catholic Schools Week. Over and above the excellent curriculum, Holy Angels emphasizes the Catholic faith, strong moral values, Catholic social teaching and service, a sense of community, and respect for others.
There is also a "pre-week" activity planned by Parent Activities Committee on Saturday, Jan. 27. All are welcome.
During Catholic Schools Week, the school will celebrate many of the important aspects of our school which make it special…academics, faith formation, extra-curriculars, community building, family involvement.
The week's activities will include:
+ Saturday (January 27th) – CSW Kickoff Celebration (5:00-7:30pm)
+ Sunday –  Open House (10:30am-12:30pm);  Kindergarten–K3, K4, K5-RoundUp (10:45am)
+ Monday –  Morning Assembly with Mr. Peace (how to make a more peaceful world)
+ Tuesday – Catholic Quiz Bowl (8:25 – primary, 9:10 – intermediate, 10:30 – jr high)
+ Wednesday – Buddies Service Day…to honor veterans not able to make the Honor Flight to DC
+ Thursday – WB Catholic Schools Mass at Cabrini
+ Friday – Student/Faculty Basketball Game (1:40pm).
The Kindergarten RoundUp on Sunday will be held in the Cedar Room of the school.  Parents interested in more information about Holy Angels are encouraged to attend.  Registration materials will be available at the event.  Holy Angels is located at 230 N. Eighth Avenue.
Schedule of events for St. Frances Cabrini School