December 28, 2020 – Town of Jackson, WI – Sylvia Rosetta Roembke nee Riemer was born on August 15, 1934 to Erwin and Gertrude Riemer in Mequon, WI and was called to her Savior's side on December 27, 2020.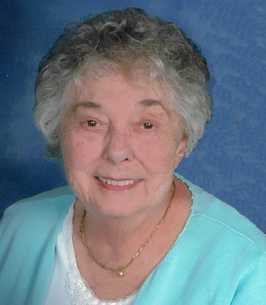 She was baptized and confirmed at Trinity Lutheran Church, Freistadt, WI and graduated from Milwaukee Lutheran High School. She was active in 4-H, helped on the family dairy farm and found employment as a secretary.
She was also a member of the Lutheran A Cappella Choir. She married Richard 'Dick' Roembke on June 13, 1959 at Trinity, Freistadt, and settled in the Town of Jackson where they were blessed with four children: David (Barbara), Linda (Ronald) Eickstedt, Mark (Julie), and Ellen (Rich) Dehnel.
She is also survived by six grandchildren (Erin Roembke, Angela (Kevin) Kissinger, Rebecca Roembke, Kevin (Rebecca) Eickstedt, Danya Dehnel, Evyn Dehnel); 3 great-grandchildren (Cheyenne and Sierra Kissinger, and Ila Eickstedt) and by her brothers Rev. Hilbert (Joan), Rev. Carlton (Arlene), Rev. Leroy, sister-in-law Joan Riemer, and brother-in-law Rev. Myrl Wagenknecht. She was preceded in death by her parents, brother Rev. Milton, sister Marcella Wagenknecht, and grandson Jacob Eickstedt.
She was an active member at Trinity Lutheran (ELS) on Pleasant Valley Road and enjoyed singing in the church choir. She was busy on the farm as a homemaker and supporter of the Washington County Fair and 4-H. She was also very active with the WI Sheep Breeders Co-op helping Dick with his position as Secretary/Treasurer. In that position, she helped coordinate sheep sales and the Wisconsin Sheep and Wool Festival. She was a strong advocate of Christian education and supported the education of her siblings and children.
Visitation will be held at Trinity Ev. Lutheran Church (1268 Pleasant Valley Road., West Bend, WI) on Thursday, December 31, from 9 a.m. to 11 a.m. with a Funeral Service at 11am. Interment at Trinity Ev. Lutheran Cemetery to follow.
In lieu of flowers, memorials to the Tuition Assistance Funds at Kettle Moraine Lutheran High School or Trinity Lutheran Church, Pleasant Valley Road. would be appreciated.