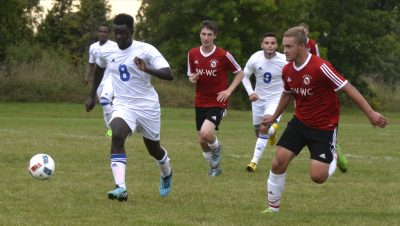 Sept. 16, 2017 – Washington Co., WI – The UW-Washington County soccer team suffered a 6-2 loss to conference foe UW-Marathon County.
The team performed admirably considering it took the field with only nine players.
Due to a lack of substitutes on both sides, teams agreed to play four 22-minute quarters to allow the players to get water.
After the third quarter, two UW-WC players were injured. In an act of true sportsmanship, UW-Marathon took several of their players off the field to make the teams even.
While playing in goal, Michael Anderson had 13 saves on 18 shots.
Lucian Lucas had 2 saves on 3 shots. Both goals for UW-WC were scored by Phil Bledsoe and assisted by Michael Anderson.
The Wildcats next match is Wednesday, Sept. 20 at UW-Fox Valley.