Sept. 23, 2017 – Washington Co., WI – The Lady Wildcats won a non-conference match on Saturday against UW-Baraboo 25 – 20, 25 – 18, 25 -21.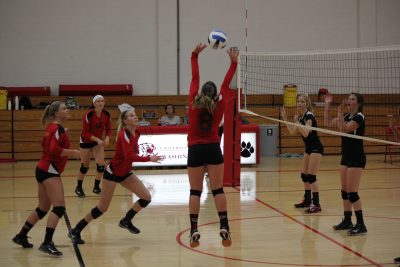 The Wildcats played well, hitting the ball hard and Kayla Schommer continues to control the tempo of the game by running a fast offense.
"Unlike our last match we struggled as a team serving at only 88 percent," said coach Deb Butschlick.  "We did see a significant improvement in the defense with Catherine Tucker playing her best game of the season as the liebero."
Meghan MacFarlane led the team with 12 kills and 27 digs
Courtney Peters had 9 kills and 14 digs
Kayla Boehm had 6 kills and 2 blocks
Kayla Schommer had 22 assists for kills and both Kayla and Ally Weix had 4 ace serves and Ally had 11 digs.
The Lady Wildcats are 1 – 1 in the WCC Eastern Division Conference and 5 – 1 overall
Our next match is on Monday, Sept. 25 at home against UW-Sheboygan starting at 6 p.m.