July 6, 2021 – West Bend, WI – Funeral services are set for Wednesday, July 7 for the 35-year-old woman killed June 29, 2021 in a two-vehicle crash on Highway 144 and Wallace Lake Road in the Town of Barton.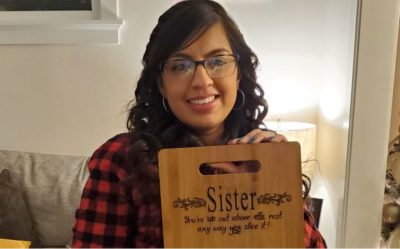 Samantha Rosado Chavez of West Bend was tragically killed after a box truck struck her vehicle. According to Washington County Sheriff's Office the driver of the car was breathing, but not conscious. The caller further advised there was a child in a safety seat in the back seat of the car.
The Sheriff's Office was later notified the driver of the car passed away due to the injuries suffered in the crash.
Her brother Samuel Irizarry wrote: "She was literally an angel here on earth and gave all she could with those she came in contact with. She was the most kind-hearted and caring person I know. We have all been blessed to have had her in our lives for the time that God has allowed, but for whatever reason he has called his angel back to heaven." Click HERE to read the rest of the tribute.
The funeral is Wednesday, July 7, 2021. The obituary is posted below.
Samantha Rosado has left to be with the Lord on Tuesday, June 29, 2021.
Samantha was born to Angeline Maldonado and Sigfredo Irizarry on January 22, 1986 in Chicago, Illinois. At the age of 5 she moved to Puerto Rico and was raised by Pablo Rosado Malpica and Reyes Nieves. Here she graduated from high school at Maestro Ladi Vega Alta and achieved her Associates Degree at Fernando Vallejo.
After college she returned to the states to be near her siblings. Here she became a mother of two beautiful girls, Kaycee A. Dow and Amaya I. Dow. For those who knew Samantha, knew that she was all about family and lived her life for her girls.
Later she made their home in West Bend, Wisconsin where she was a dedicated team leader at Sussex IM for 13 years. On December 29, 2018, at the age of 33, she was reunited with her biological dad Luis Manuel Chavez. Those who met Samantha were made aware of how proud she was to have 3 Dads and 2 Moms. Samantha was always looking for the next adventure and was full of life.
Samantha is survived by her two daughters, Kaycee and Amaya, her parents, Angeline, Sigfredo, Pablo, Reyes, and Luis, her siblings, Sigfredo Jr., Stephanie, Samuel, Carla, Sabrina, Sylvia, Marc Anthony, Elizabeth, Marilyn, Maridza, Lisbeth, Luis A. and Alondra, and her grandparents, Arcadia, Dionisio, Antonia, Eva, and Jose.
Visitation will be held on Wednesday, July 7, 2021 at CHURCH AND CHAPEL FUNERAL HOME, 380 Bluemound Rd., Waukesha, from 2:00 PM until the time of Service at 5:00 PM.
Additional visitation will be held at the funeral home on Thursday, July 8, 2021 from 10 a.m. until the time of Service at 12 p.m. Burial to follow at West Bend Cemetery, 3358 Paradise Dr., West Bend.