West Bend High School Snowboard team takes 1st place two weekends in a row | By Jenny Zaskowski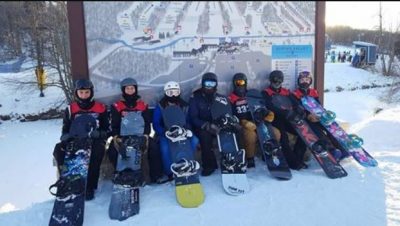 Jan. 15, 2018 – West Bend, WI – The West Bend High School team had its first competition at Alpine Valley on Saturday, Jan. 6 and at home at Sunburst on Saturday, Jan. 13.
Each weekend consisted of a Giant Slalom (GS) and Slalom (S) Race against approximately 45 athletes.
WBHS, with 19 members on its team, is a part of the Metro Milwaukee Snowboard Conference and receives coaching from head coach Jake Roller and assistant coach Mike Bauer.
The varsity is based on time trials and event scores. Boys varsity line up is:  Hunter Zaskowski (East Senior), Brad Halverson (East Senior), Carson Schmidt (West Senior), Caleb Raven (East Senior), Cole Rummel (West Sophomore), and Nolan Kasten (West Sophomore).   Girls Varsity:  Kelci Waters (West Junior).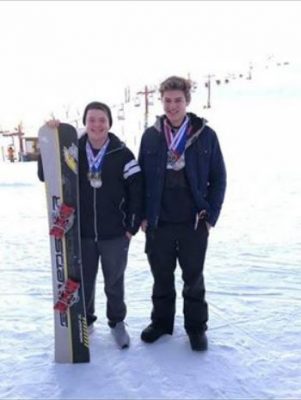 Hunter Zaskowski took 1st place in both Slalom and Giant Slalom both event weekends of competition.
Cole Rummel took second place at Alpine in both events and 2nd in GS and 3rd in Slalom at Sunburst.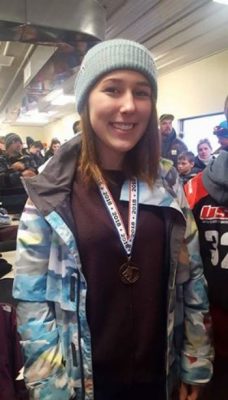 Kelci Waters received 3rd in Giant Slalom this weekend at Sunburst.
In addition to having individual students podium, the entire team took 1st place both weekends in both events.
The team is preparing to travel to Madison and Tyrol Basin this weekend for two days of racing to include its first Boardercross competition, which is also an Olympic event.
On February 5, 14 members of the team will travel to La Crosse to participate in the La Crosse Cup Race at Mt. La Crosse.
This race will give the kids an opportunity to compete with others around the state, experience deeper competition, while preparing for State at the end of February.