August 15, 2019 – West Bend, WI – A crew from Poblocki Sign Company is expected to be in downtown West Bend today, Thursday, August 15, to rehang the sign on the Historic West Bend Theatre.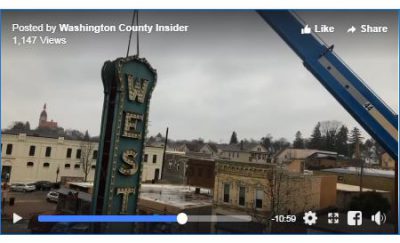 The iconic community landmark was removed Dec. 27, 2018.  
The past seven months the sign has been undergoing an extensive upgrade as it was dismantled, sandblasted, rewired and painted  in an effort to return it to its original glory.
The theatre sign is expected to be rehung today.
West Bend police said a portion of N. Main Street will be closed between 8 a.m. and 2 p.m.
A ceremonial lighting of the sign is scheduled for September.
Side note: When the sign was removed December 27, 2019 the weather was cold with rain and sleet. Today's forecast is for cloudy skies with comfortable temps in the mid 70s.