Why so much foam in Hartford | By Steve Volkert
March 14, 2019 – Hartford, WI – A large amount of foam closed a portion of Rudal Street in Hartford on Thursday morning as the large white mass moved across streets and bridges.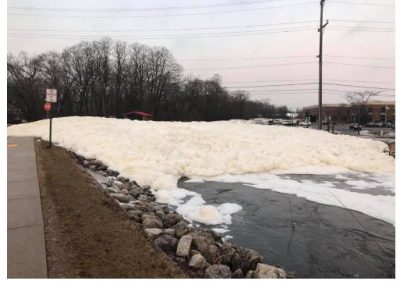 Below is an explanation from Hartford Sewer Utility Director David Piquett.
From before and after the Rural street Bridge, there is NO toxicity in the foam, or causing the foam. The Dissolved Organic Carbon (DOC) is high which happens especially during this time of year.
DOC elevates when naturally produced surfactants (organic pollutants) released from algae blooms and aquatic plants dissolve in water.
The combination of DOC that is already in the river along with the amount that comes from our storm sewers and soils that border the river will cause foam.
The reason for the Rural Street build-up is due the high DOC which is agitated by the high flow coming through the dam.
The water level is up to the top of the bridge and is acting as a skimmer, because of the short distance between the dam and the bridge.
Dissolved Organic carbon is in the water year round, but this level will drop pretty quickly along with the height of the river. I know it is unsightly, but it is a natural occurrence. Hope this helps explain a little.
David Piquett
Sewer Utility Director
City of Hartford