June 6, 2021 – West Bend, WI – A father of two who helped recover the body of the 8-year-old boy from Regner Park pond on Saturday afternoon said it was the most traumatic thing he has ever been through.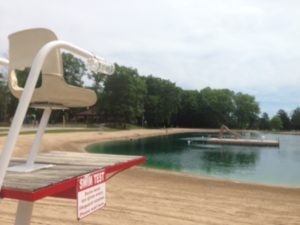 Michael Lockwood, 35, is an Army veteran from Fond du Lac.
"I need to talk about this because I'm hoping it will help change some rules and regulations at the park so nobody has to go through this again," said Lockwood.
Michael and his wife Heather filled out a police report after the incident. "I just need to talk about this while it is still fresh," he said. "We came to the park because Fond du Lac did not have a park open for swimming."
The Lockwood's were at the Regner Park with their mother-in-law, aunt in-law and their two children ages 2 and 7.
The Lockwoods were on the western edge of the pond closest to the playground and the splashpad.
"We were with our kids and we were told a child was missing," he said. "I was in the service and so I started yelling and my wife started yelling.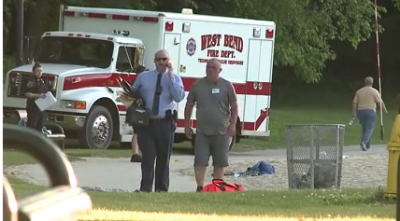 "I grabbed my kids because I didn't know if there was someone in the park who was taking kids and I didn't want to lose them. I had my kids close to me and I was yelling for Isaac… they said he was 7 years old," said Lockwood.
To be proactive Lockwood asked a lifeguard how he could help. "They were checking outside the pool… I thought they should have been checking in the pool.
"I ended up with the parents and we all combed the pool and right towards the end where the child was near the area where it went from shallow to deep… that child never crossed that line, but my wife was right next to the lady that ended up picking up the child.
"My wife started yelling for a lifeguard and then I yelled really loud and they carried him to shore."
Lockwood said CPR was started immediately.
"They were working on the boy until the first responders arrived and me and my wife took towels and held them up to shield other kids from actually seeing what was happening," he said.  "It also helped give the first responders some privacy."
Lockwood said he was most affected by the medical procedures he saw as first responders tried to revive the child.
"My wife and I were just crying and praying."
Lockwood said the pool was not really crowded but said it was "busy."
Lockwood said he saw four to five lifeguards.
Lockwood said he hoped telling his story would help initiate safety measures to prevent future tragedies.
"If they ended up with a missing kid in the future, they should immediately start checking the water and check the surroundings second. If the kid is out, he will be alive but the first thing that should be checked is the water," he said.
Lockwood also recommended more lifeguards at the pond and life preservers for kids under a certain age.
"I was horrified… I just wouldn't want this to happen to anyone," he said.
The Washington County Dive team was also on scene Saturday to conduct a thorough search of the water.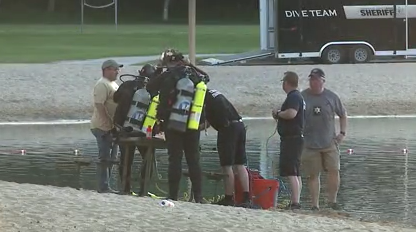 This is the second drowning at Regner Park in the last five years.  On Saturday, June 11, 2016 Swannie Her, 6, was at Regner Park with several family members celebrating birthday. At approximately 5:30 p.m. Swannie and several family members went swimming in Regner Park Swimming Pond. Shortly before 6 p.m. a swimmer found Swannie unresponsive in the water.
Saturday, June 5, 2021 was the second day Regner Park Pond was open for the season.
According to the City the Regner Park Pond and splash pad will be closed Sunday, June 6, 2021.
Regner Park Pond has a depth of 15 feet by the diving area. The swimming area ranges in depth from 3 feet to 5 feet.
The Saturday incident at Regner follows in the footsteps of another incident involving police on Thursday night where a music event was shut down and the park evacuated after someone reported finding a pipe bomb. A canine unit and the Milwaukee Bomb Squad were called to the park. Police followed up Friday, June 4 and said a 51-year-old Ozaukee woman may be facing charges. She reportedly was hiding the objects as part of a scavenger hunt.